Application Gallery
Here are some examples of the amazing things people have built using the
Ergast Developer API
. If you would like your own application to be featured on this page please
contact us
with details.
---
Wrangling F1 Data With R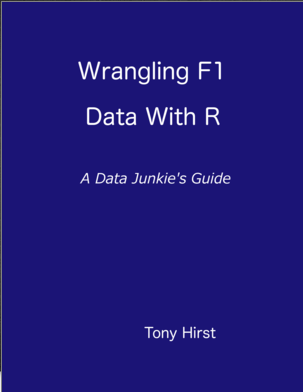 Tony Hirst has released a provisional draft of a book called
Wrangling F1 Data With R
which demonstrates how you can apply the latest open source data analysis and visualisation techniques to Formula One data, including data from Ergast.
---
F1 Timeline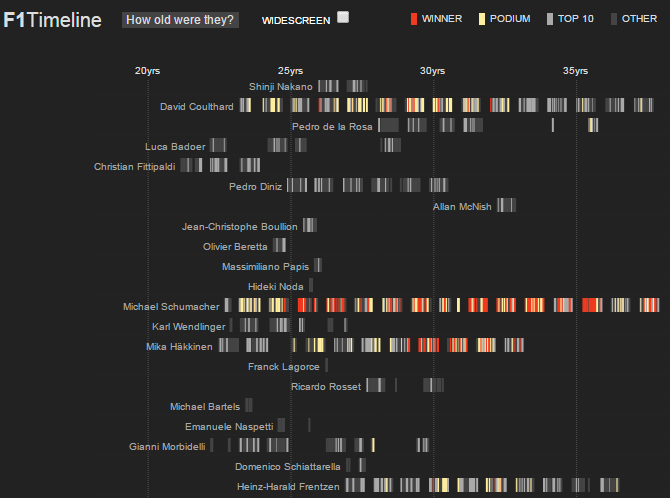 Peter Cook has developed a fascinating visualisation called
F1 Timeline
which allows you to compare how different F1 driver's careers have progressed with their age or against actual time. The app is one of the first to use the
database image
rather than the API
---
F1 Almanac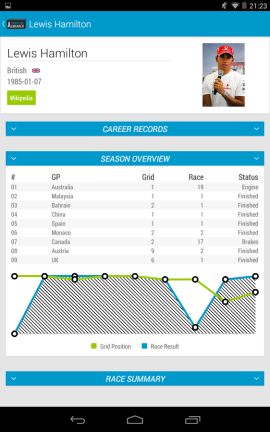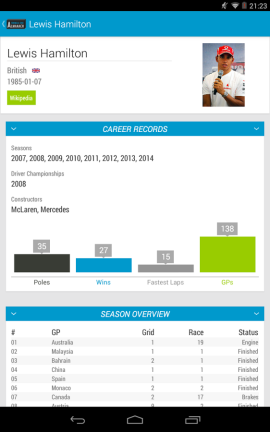 D.J. Lenz has developed an Android app called
F1 Almanac
which provides a comprehensive range of information in 12 languages, track diagrams and news feeds. The app requires Android 4.1 or above and is available free from the
Google Play Store
---
F1 Scope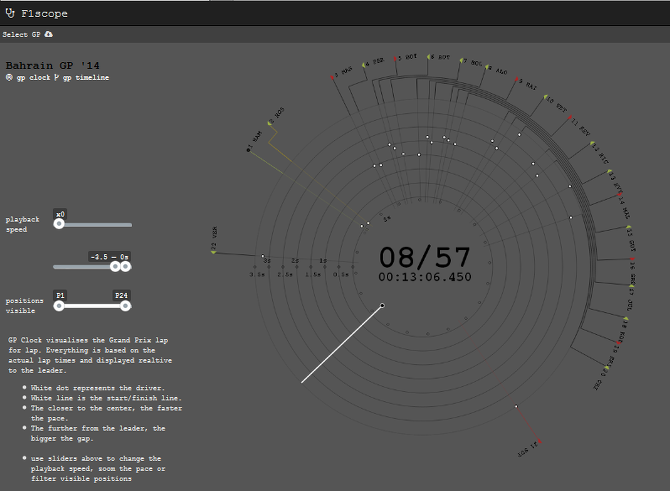 Michal Switala has developed this
unique web application
which provides a dynamic reconstruction of each race using an inventive visualisation of each driver's race position.
---
F1uptodate App for Symbian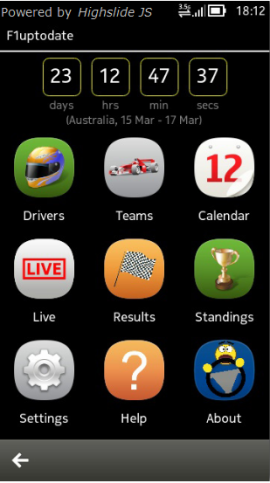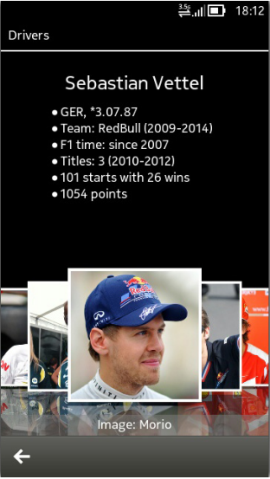 schumi1331
has developed an App for Symbian smart phones called
F1uptodate
. It provides a detailed calendar with track image, starting times and other interesting data in 12 languages.
---
Race Results App for Android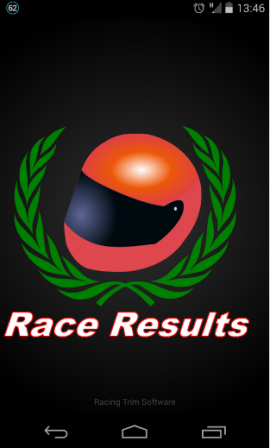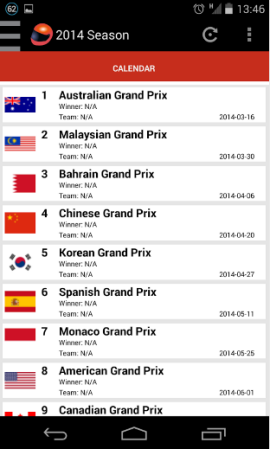 Peter Farrell has developed this Android App called
Race Results
which provides comprehensive information for the 2013 season and allows users to download results for offline reading. Available free from
Google Play Store
.
---
F1 Results App for Windows Phone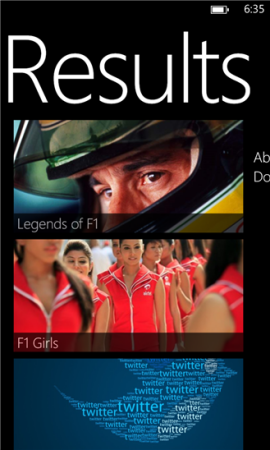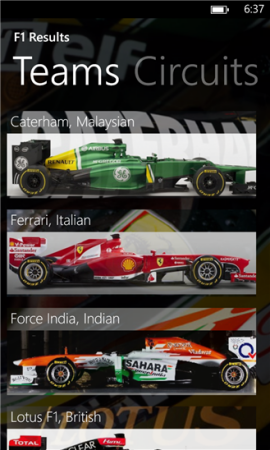 Harsha deep Reddy has developed this cool looking app for Windows Phone called
F1 Results
. The app provides race results, driver tweets and much more in an attractive, easy to use interface. Available free from the
Windows Phone store
.
---
F1 Man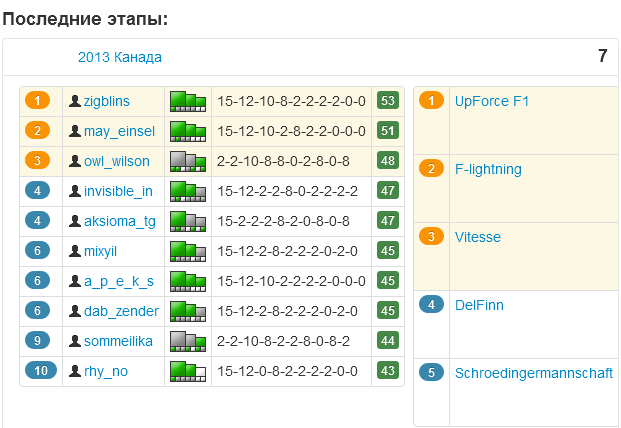 Yaraslau Kurmyza has developed the first non-English language website using the API called:
F1 Man
. The website provides statistical analysis and predictions for Russian speakers.
---
Lapalyzer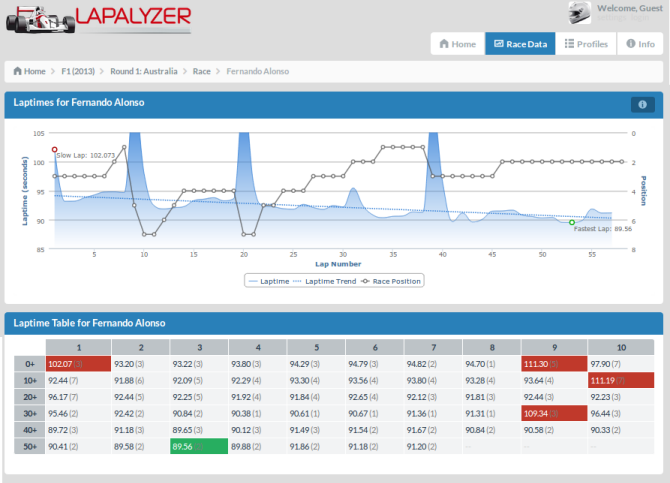 Dominic Ijichi has developed an analysis service for motor racing data called
Lapalyzer
. It provides a detailed analysis of championship and race results using a growing range of visualisations.
---
F1 Result Finder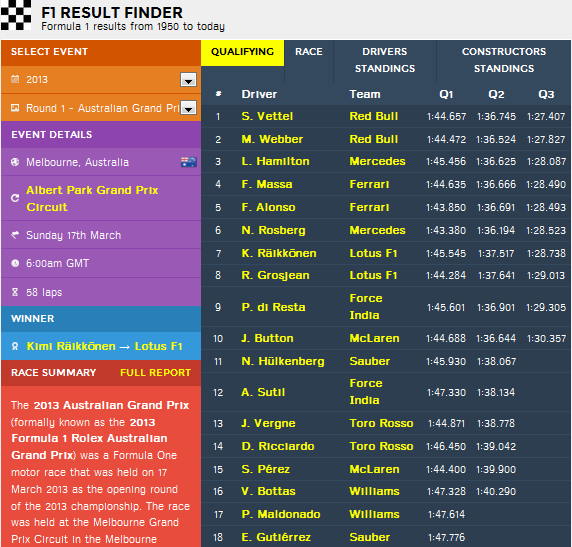 Amit Dhamu
has developed this impressive
F1 Result Finder
site which optimises itself when used on mobile devices. It provides comprehensive results and race background information from the first championship in 1950 to the present day.
---
Racing Results App for iPhones and iPads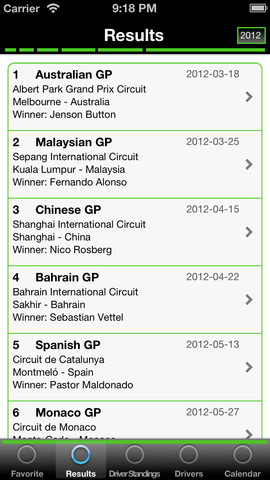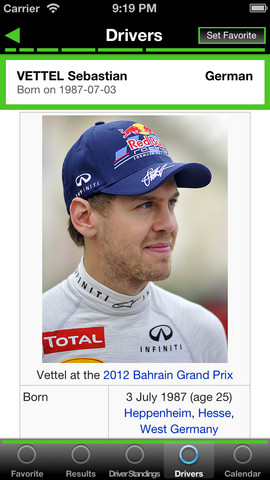 Georg Hennerbichler has developed this comprehensive
Racing Results App
for iPhones, iPads and the iPod Touch. As well as listing standings and results, the app provides dedicated driver information pages and presetable race reminders. Available free from
iTunes
.
---
F1 Beta – Formula 1 Management App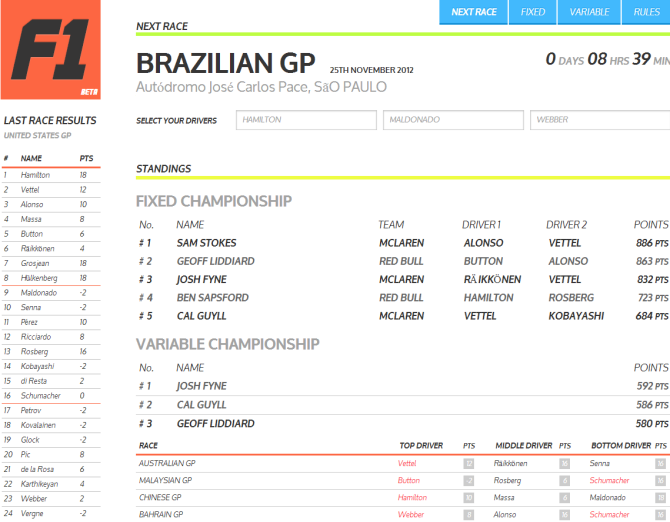 Geoff Liddiard has produced this impressive looking app for a Fantasy F1 Management competition with colleagues. Further developments under consideration.
---
Formula 1 – Alternative Point Scheme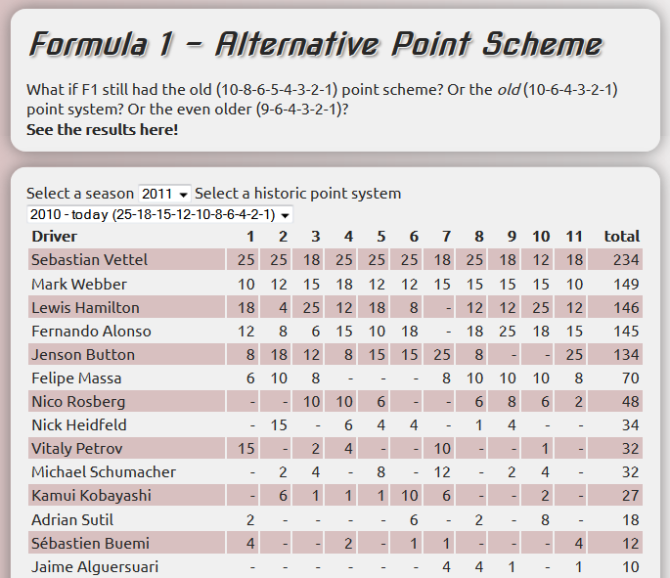 Matthias Reuter has created a comprehensive
Alternative Point Scheme comparator
which lets you compare the results of any historical F1 points scheme when applied to any specific season.
---
Shiny F1 Laptime Explorer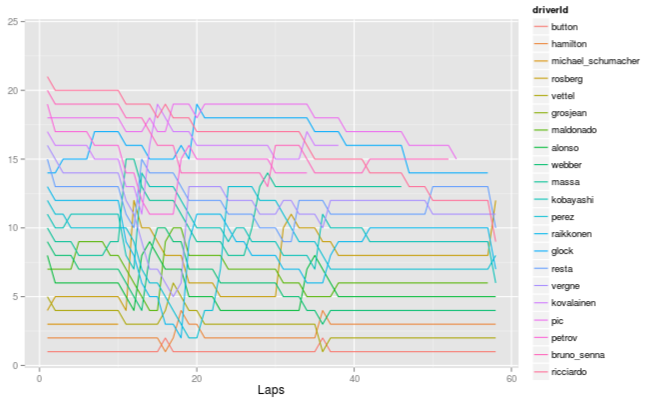 ---
Points Scheme Comparator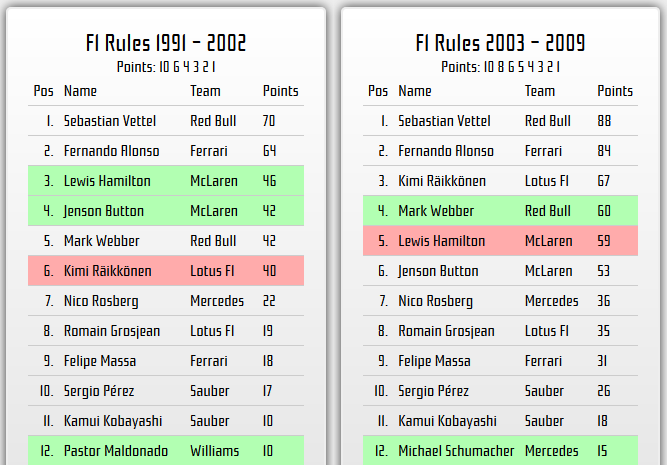 esportshistory.com has produced this highly polished
F1 Points Scheme Comparator
which lets you compare how drivers would have fared in the Drivers Championship each year under the three alternative points schemes in force between 1991-2002, 2003-2009 and 2010-2012.
---
Mobileng F1 2012 HD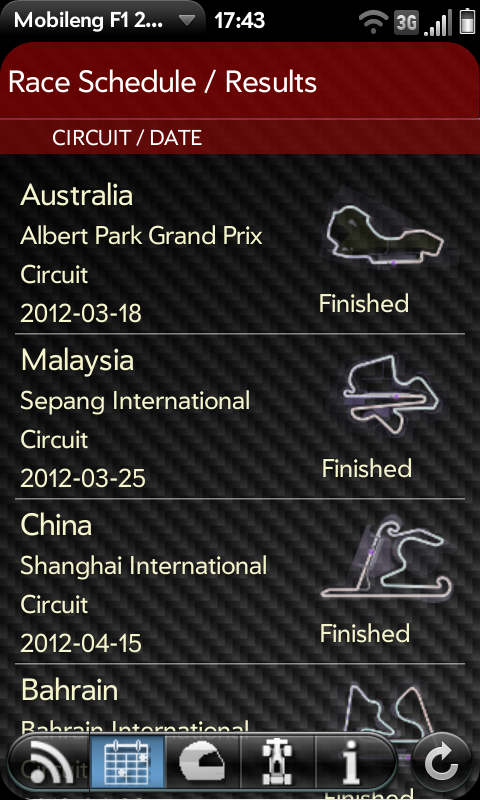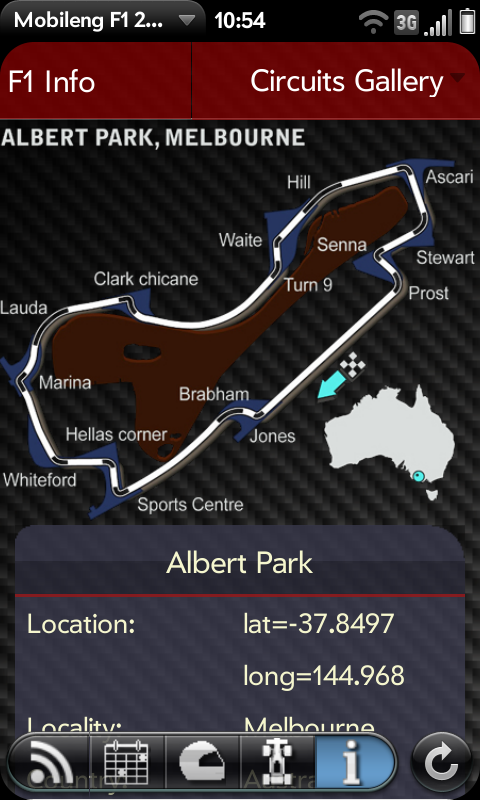 Mobileng has produced two great free apps for WebOS users:
Mobileng F1 2012 HD
for tablets and
Mobileng F1 2012
for smartphones. The apps provide access to F1 news feeds together with circuit information, race results and championship standings.
---
Open Formula 1 Live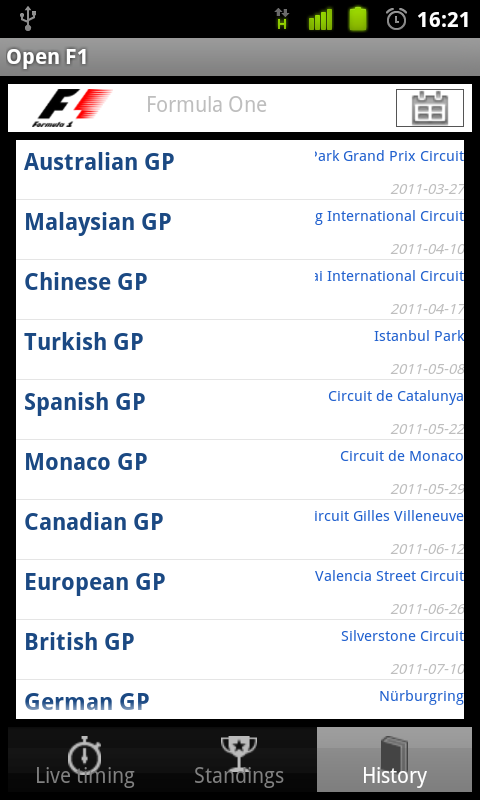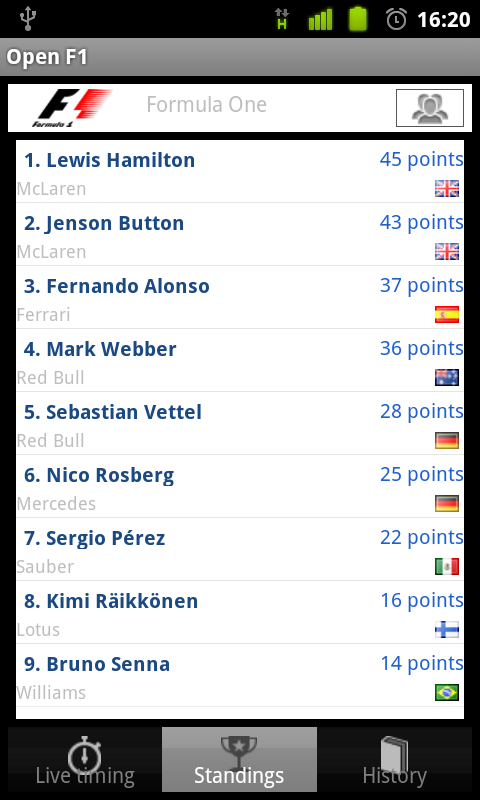 ---
Embeddable Countdown Widget
Amit Dhamu has created this great Race Countdown Widget which you can add to your own web pages.
For more details visit: http://amitdhamu.com
---
F1 Appedia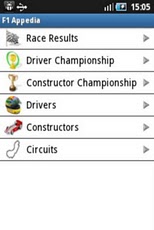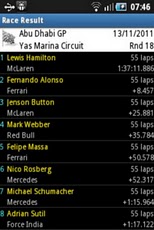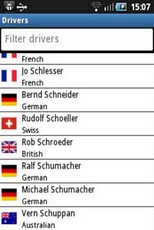 F1 Appedia is a free Android app providing complete Formula 1 results listings. Up to date information is available on all drivers, constructors, circuits, races and championships from 1950 to the present day.
Available through Android Market.
---
Yahoo! Open Hack Day Brazil – F1 Results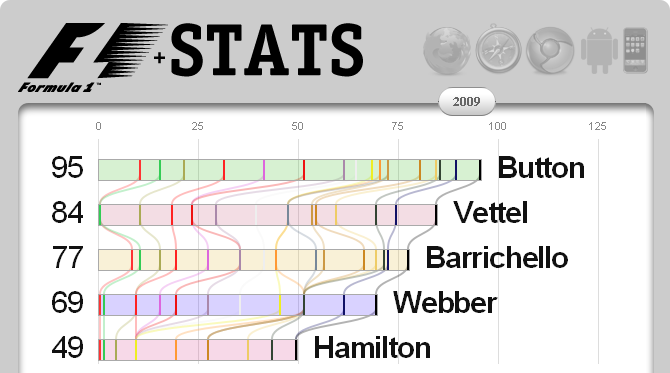 F1 Results is a hack by Daniel Rodrigues da Costa Filho, Fabio Dan Dias Cardoso and Iraê de Carvalho Brasil which won the Best in Show and Hacker's Choice awards at the 2010 Yahoo! Brazil Open Hack Day. It provides a really great visualization of F1 results using Canvas, CSS3, and other technologies.
Try it out at f1results.socialminds.com.br
---
More Than F1 – Fantasy F1 Management Game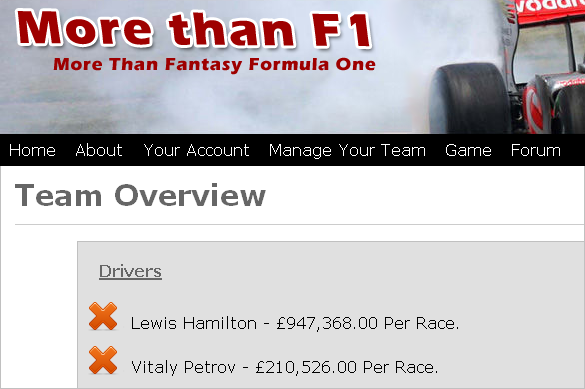 More Than F1 is a free, web-based, fantasy F1 Management game. Pick drivers, chassis, engine and sponsors then watch your team's fortunes and finances develop!
Sign up at: morethanf1.co.uk
---
Ergast Google Gadget
This is a Google Gadget you can add to your own web pages.
Click on the horizontal arrows for previous F1 races and seasons. Click on the vertical arrows to page through the results.
You can specify the default tab and the number of results displayed.
---
Reality F1 – Fantasy Formula 1 Game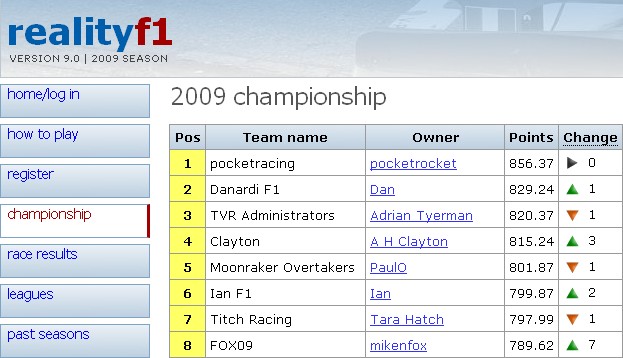 Reality F1 is a free, web-based, fantasy Formula 1 game. Pick two drivers and two cars within a budget of £70 million and follow your team's progress throughout the season!
Sign up at: www.realityf1.com
---
Formula 1 – Android Application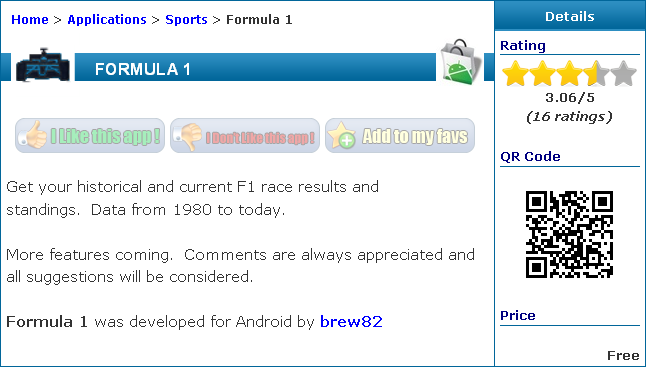 Formula 1 is a free application for the Android platform providing schedules, standings and results.
More information here.
---